This was the Roundhouse on Saturday.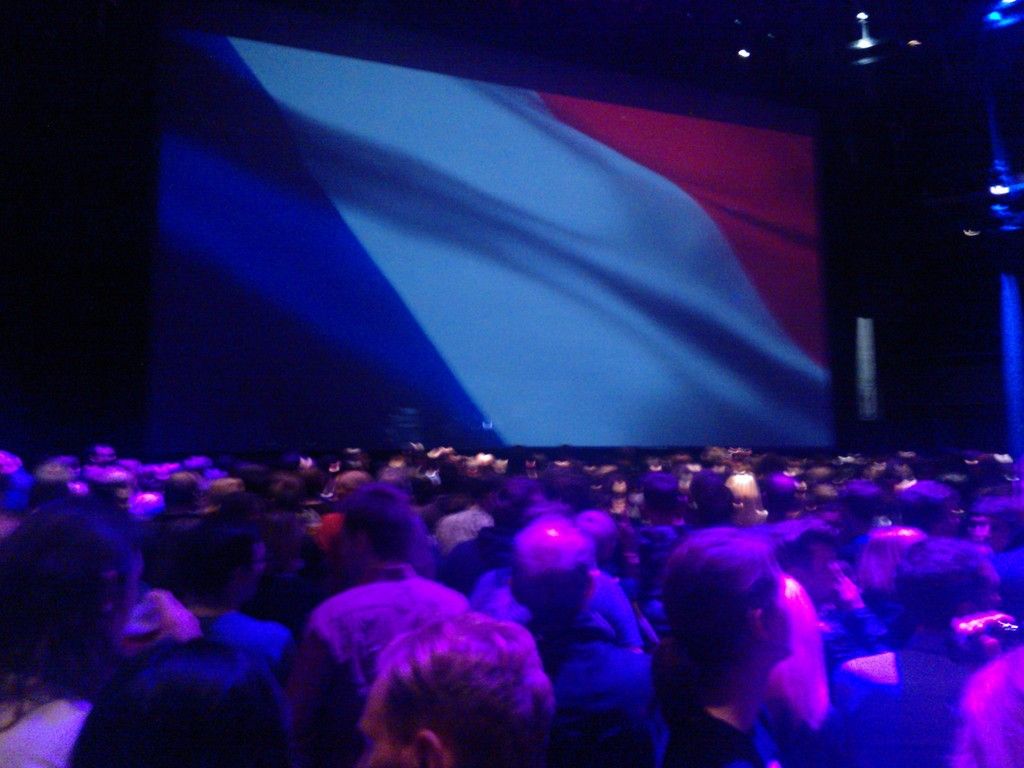 The Bataclan massacre has affected me more than anything previously in this conflict, I guess because it's closest to home both geographically and in terms of being targeted at my own peergroup. The Roundhouse were taking no chances on Saturday with metal detectors and bag searches at the entrance and noticeable police presence around the venue. This could easily have been a Suede gig. I don't know what to say really, it's just a horrible thing.
I guess the important thing is this: ISIS may claim that this is a reprisal/punishment for France meddling in their affairs but it's really nothing of the sort. These attacks are provocations, designed to instil fear and hatred, to create divisions and barriers. Already one of our national papers is gleefully reporting that two of the killers entered Europe as refugees a tactic ISIS threatened a few weeks ago. I don't know what the answer is but I can see what ISIS are doing and to give in to it, to fear and judge Muslims in our own country and to close our backs on the hundreds of thousands of people desperately fleeing this appalling regime, is playing into their hands.
Bataclan was where I first saw Suede in 1994 during the DMS tour with the Manics as openers. Since then it has become one of my favorite venue in Paris.
I saw many concert there and Suede two other times: 1996 for Coming Up and 2002 with A New Morning.

It is the venue where Suede played the most in Paris (on par with La Cigale after january 26th)
Posts: 168
Joined: Tue Sep 29, 2015 9:13 pm
Jayyj wrote:This could easily have been a Suede gig.
That's the scary part. The Paris attacks strike home that no-one can consider themselves blissfully unaware and safe from these horrors. Not to mention the grief of so many innocent people having to die, but so many young people too - as I heard over the news, one of the oldest people at the venue was a merchandise seller in his thirties.
Jayyj wrote:These attacks are provocations, designed to instil fear and hatred, to create divisions and barriers.
That's basically the sum of it. Some journos try to overthink it and try and find ways to reason with these, but that's impossible. These terrorists are simply using medieval excuses (religion etc) to maraud and kill at will.
he puts his faith in the moment.. outsiders
The frightening aspect of this for me is that it's a big change in tactics from the New York and London attacks, which were carefully coordinated and a long time in planning. Complicated plans are much easier for security forces to get hold of and diffuse before anything bad happens and the terrorists know that, however sophisticated their means of communication, they have nowhere near the sophistication of western security forces. This newer approach is much more random, essentially a process of radicalising large numbers of young Western born Muslims and winding them up to see who has it in them to carry out an attack, then the only planning required is a quick phone call to say where to pick up the gun. It always comes out in the wake of an attack that security forces had the killer's name on a watch list but the reality is there were thousands of names on these lists - they know who's doing the grooming but there will be hundreds groomed for every one that is capable of firing a gun into a crowd of teenagers and even the coordinators have no real idea which ones are going to turn out to be killers. How do you track all those people 24 hours?

The realistic answer is we will never be able to prevent this type of attack as effectively as we can people learning to fly planes so they can crash them into buildings. What we can do is look more carefully at who these people are and why they can be groomed to commit these crimes. It's easy to blame Islam but if you look at the Hesbo and Lee Rigby murders or the fun run bombers in the US, these aren't finely honed Taliban or Al Quaeda soldiers. I read an interesting article recently that suggested that they acutely have more in common with people who sign up to far-right racist organisations and to those who carry out this such as school massacres - people from underprivileged back grounds and/or bad family situations, angry and resentful at the world and craving respect and authority. Take someone like that and tell them their problems are all down to the West being at war with Muslims and you can channel that anger into something that can do some damage.

The trouble is, if we react to events such as those this weekend with increased levels of mistrust and antagonism towards Westernised Muslims, the more pressure it puts on those communities and the easier it becomes for malign forces to infiltrate them and create budding little martyrs to carry out the next round.
Posts: 52
Joined: Fri Oct 23, 2015 9:37 pm
I feel sorry for the "westernised Muslims", but this is how multiculturalism ends. People naturally tend to get in groups and have "we are good, they are bad" mentality. Now non-muslims will project their hate on every Muslim and Muslims will hate non-muslims for that and so on...
That's why it is the best for a country to have religiously and racialy unified society.

I don't think that some races are bad or anything. It's just the fact that it will always be us vs. them somehow. Look at the USA, where racial tensions are the worse in years. I don;t have to explain the religious thing, because it is too obvious.

I genuinely think that western world will have to deal with a legit religious and race wars soon. And it's not the fault of anyone except pro-immigration leftist politicians.

No matter how many nice slogans you will repeat, you can't live under one roof with someone who is utterly different to you. It hurts both sides...
Posts: 52
Joined: Fri Oct 23, 2015 9:37 pm
Just fucking WOW. How is my comment stupid? You can't even explain that, you just insult me, even though I didn't wrote anything offensive in any way this time.
Look at the western countries and face the truth. In every multicultural country, there are getthos or even NO-GO zones.
btw
How stupid you have to be to think that there are no races? We can put this kind of "scientific facts" next to the astrology and other pseudo-sciences. I'm not saying that there are master races or anything like that. I'm just telling that people are different and it's better for both sides to live with racially unified society. Just look at the USA and the tensions there. There is no such thing in Poland.
Posts: 168
Joined: Tue Sep 29, 2015 9:13 pm
Last boy - multiculturalism won't end and neither will countries be better off with unified race and societies, you do realise that's a bit of an ill-judged comment you made. In the wake of these events, Muslisms living in European countries should rather be better understood and it is up to everyone else in Western Europe to not start categorising and labeling them - this is one thing that can lead to more confused youngsters going down the IS path. Prevention and better understanding of people, places and cultures is the first step in remedying this disease.
he puts his faith in the moment.. outsiders
Posts: 52
Joined: Fri Oct 23, 2015 9:37 pm
You see, it would all be great if everyone was like you. "We need to understand eachother, we need to learn about other cultures". But I'm sorry. Most people aren't like that. And I believe that the way the society works should be adjusted to people and not otherwise. Social standards etc. are for us and not otherwise.

I'm sorry to say that but people just don't care. There is always us versus them. Multiculturalism is agains human nature and it will end up very badly, you will see in a few years - We Are The Pigs will turn real. Culture is what unifies people and gives them oportunity to live in freedom and peace to some degree. Two cultures under one roof is a disaster. Of course, there are well educated ones who want to live nicely and are non-judgemental etc., but there are more primitives.

I'm not well educated in history, but as far as i know, most of the times when people of two or more cultures/religions lived in one country, there were fights, discrimination etc.
---
Return to "General Discussion"
Who is online
Users browsing this forum: No registered users and 1 guest